»LLL SIG Events
---
2008
LLL SIG at the 2008 JALT National Conference
The 34th Annual JALT National Conference was held from October 31 to November 3 at the National Olympics Memorial Center in Tokyo. This was the seventh time that the conference has been held jointly with the Pan-Asian Consortium (PAC) and the sixth time with the Asian Youth Forum (AYF). In attendance were language teachers from across Japan and other nations; PAC members from ThaiTESOL (Thailand), KOTESOL (Korea), ETA-ROC (Taiwan), FEELTA (Russian Far East), ELLTAS (Singapore), and PALT (Philippines); and AYF sponsored young people from across Asia. LLL SIG activities at the conference are briefly outlined below.
LLL SIG Featured Speaker Presentation (co-sponsored by LLL SIG and GALE SIG)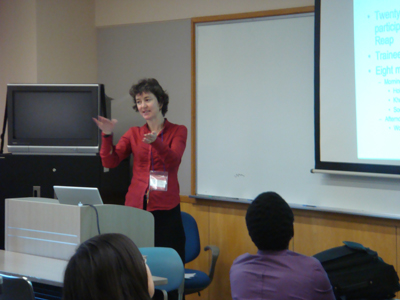 Neela Griffiths, a lecturer in academic language and literacy at the ELSSA Centre, University of Technology, Sydney, Australia, spoke about her volunteer placement with Australian Volunteers International in Siem Reap, Cambodia, between July 2007 and July 2008. During this time, she taught English to young women who worked in the local beer gardens, restaurants, and karaoke bars in order to improve their employment prospects. This very interesting and well-attended presentation included a description of the selection process for program participants, teaching methods used, challenges faced by teachers and learners, and the immediate and long-term positive impact on the women after their graduation. Supported by a large selection of pictures and video clips, the presentation gave attendees a glimpse of the program in action and a sense for the hard work and enthusiasm needed for the undertaking.
*-----*-----*-----*-----*-----*-----*-----*-----*-----*-----*-----*
Pan-SIG Conference 2008
Diversity and Convergence: Educating with Integrity
May 10-11 (2008) Doshisha University, Kyoto
Hosts: LLL, GALE, MW, OLE, Pragmatics, TE, TEVAL and the Kyoto Chapter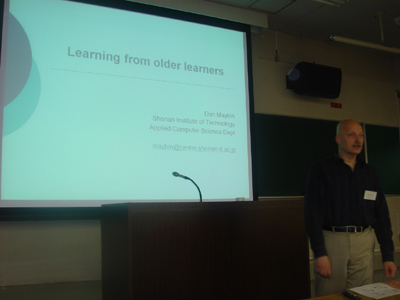 Don Maybin's Presentation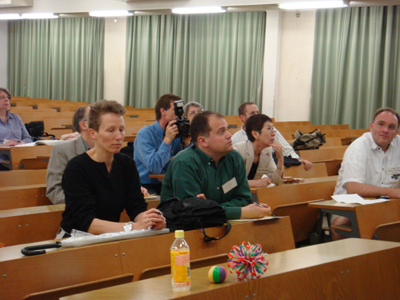 Conference Attendees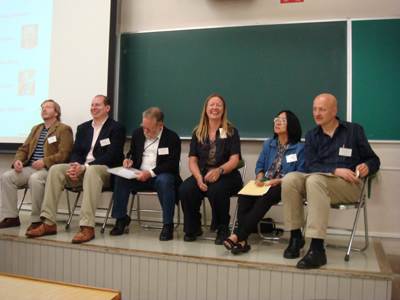 Panel Discussion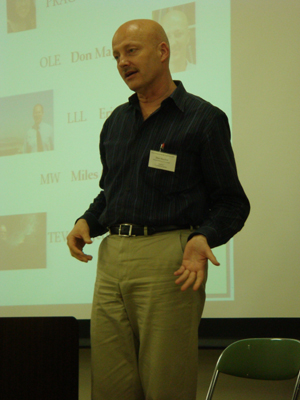 Don Maybin Panel Discussion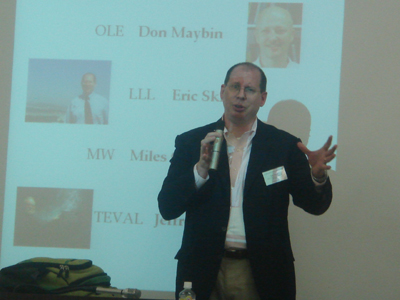 Eric Skier Panel Discussion
---
2007
Lifelong Language Learning / Pragmatics SIGs Mini Conference
Authentic English and Elderly Learners: A Day of Sharing Theory and Practice
June 24, 2007; 9:00AM - 5:00PM
Temple University, Tokyo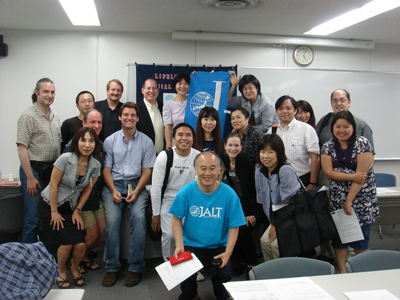 For more information, please [ download ] the flyer.
---