[ LLL SIG Website ][ LLL SIG Publications ][ This Issue's Contents ]
Volume 5, Issue 2 [August, 2009]

---
Reflections on Pan SIG 2009
Eric Skier
LLL SIG Coordinator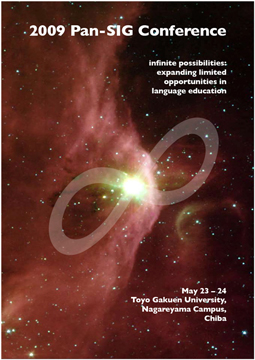 I am happy to announce that the LLL SIG was well represented at this year's Pan SIG conference held in Chiba on May 23rd and 24th at Toyo Gakuen University. A number of LLL SIG members were in attendance (some even helped to plan and run the conference) and there was an interesting program of presentations oriented toward lifelong language learning. This year was the eighth time for the conference to be held and, for those not familiar with the Pan SIG, it is primarily a conference organized by the various special interest groups (SIGs) of JALT for their members. In the past, conferences have attracted around 100 participants over two days, but this year there were almost 200 people in attendance, including a number of international participants. The interest from abroad was in great part due to the impressive efforts of GALE SIG coordinator and LLL SIG member Salem Hicks, who was the publicity chair for this year's conference. Many thanks, Salem!
Presentations in the LLL SIG section of the program were made by John Campbell-Larsen, John Spiri, Geoff Sinha and Ben Shearon. LLL SIG member Geoff Sinha shared the findings of his master's thesis, an investigation of the attitudes of older learners to Englishes: inner circle (North American), outer circle (e.g., Singaporean English), and expanding circle (Japanese). It was a good opportunity to hear about research on older learners of English in Japan and there were a number of questions from interested participants. Geoff also came up with a memorable quote that seemed to capture the spirit of lifelong learners: "Older learners are like Coca Cola. They are both refreshing and uplifting." Sentiments I couldn't agree with more.
The presentation by Ben Shearon was titled Helping Learners Become Independent: A Toolbox of Self-study Resources. Ben focused mainly on a number of websites of interest to lifelong learners. Among them were Smart.fm, Lingq.com, and Rikai.com. The first two allow learners to practice their English (and other languages) online for free. The third site is a text- translation site, which may be handy for students who need a quick translation every once in a while—I know I do sometimes! Ben explained how to use the sites and set up an account. He also reported the strengths and weaknesses of each site based on his experience.
I was also very intrigued by a presentation in the Testing and Evaluation (TEVAL) program by Elaine C. Gilmour, who spoke about testing methods in her university course. Just to show that one is never too old to go back to school, one of her student participants was a woman of retirement age.
As submissions chair for the conference, I got to know a number of the participants. Some are still graduate students making their first presentation at a conference. Others came from abroad for their first international conference. While many conferences can be intimidating, the Pan SIG conference provides a friendly environment for both attendees and presenters, especially first-time presenters.
For those of you who attended the Pan SIG conference, I am sure you understand when I say it is a warm and congenial atmosphere. The chance to reconnect with friends, and brush up on the various theories and classroom practices makes it well worth the visit. For those LLL SIG members who have never attended a Pan SIG conference, I sincerely hope you will try to make time next year for the Ninth Annual Pan SIG Conference to be held at Osaka Gakuin University on May 22 and 23, 2010. And for those would like to make a presentation, please keep your eyes peeled for announcements in JALT publications and on JALT websites for the Call for Submissions this coming fall. You'll be glad you got involved!